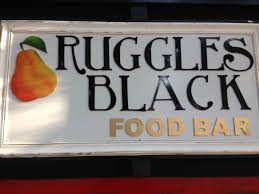 Now, when I educate my clients on how to follow a Paleo diet to a T, it's basically the same template over and over.  When you look at your plate, you want to see (1) Meat, (2) Vegetables, and (3) a Healthy Fat option(HFO). Thats it…Period.  Lets dig in!
The collaboration of Chef Molzan and Neera Patidar is absolute Paleo perfection.  The creative, delicious and anti-inflammatory meals are  wonderful.  Lets be honest, when you follow a Paleo diet, some, not moi, can put them selves in to a prison of Free Range Chicken breast and Organic Steamed Broccoli with A splash of olive oil.  Fearing Grains, Dairy, and flavor.
Eating out should be filled with excitement and passion and flavor.  You Get all of that Ruggles Black!
The Highlights.  STREET EATS:  I thought my days of picking up a taco or eating enchiladas were over.
Paleo Beef Short Rib Taco, Seared Tuna Taco, Snapper Taco, Veggie Taco and Paleo Tandoori Lamb Taco are completely divine, and here's why you can enjoy them without the guilt or bloating.  The tortilla is made with Almond flour and Coconut milk and made very thin and crepey, so even though the fat content is there you don't come away feeling heavy and stuffed as you do when eating flour and corn tortillas.  Also, (big Also) Tandoori is typically a marinade made with yogurt, so if you are dairy sensitive Tandoori is not for you.  This creative duo uses Green Papaya to tenderize and infuse the spices into the meat, instead of yogurt..you wont miss it!  The Crab Tower and the Paleo Angry Shrimp are must haves to start with   OR add a side of veggies to any of the above in bold and you will be completely satisfied.
Salads:  The two main things that I want to touch on is Soy and Dairy.  There is Miso in several forms throughout the menu and especially in the Salad dressings.  Paleo does not include beans… Soy is a bean and has been called a very inflammatory bean.  Miso is made from Soy…stay away from it!  I choose not to go there at all, but if I were to dine on some cheese it would be Goat Cheese, and goat cheese is all throughout the menu, especially on the salads.  Goats milk is low in Casein(which is one of the proteins in milk that is highly inflammatory to some), has less lactose, and fewer digestive issues.  Structurally and nutritionally it is similar to breast milk.  But if you want to stay true to your guns,  just say no to cheese.
Main course:  For the most part every thing is good to go.  Just look for foods like Rice Noodles, Red Quinoa, Red Quinoa Tabouli and Granola, and trade out for vegetables!  I say this more from a high carb load which is mixed with already rich restaurant foods.  You will feel bloated and it will take days for your body to de-bloat and stop craving more nutritional inferior carbohydrates.
The menu is very creative and there are so many things I want to try on the menu.  The next day I felt great, even though I know I overdid it, I had no bloating!
See you Next Week!