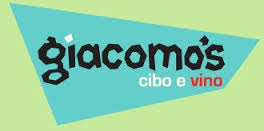 Giacomo's has all fronts covered when it comes to Paleo Lifestyle.  Before  you even order you have an over whelming sense that you are cared for with statements like:
                           gf – gluten free           gf* – can be prepared gluten free          nuts – contains nuts 
we prepare everything from scratch, using all natural and top quality ingredients, many of them organic & locally sourced ● our free range eggs from local old dad farms ● our ground beef is from Texas Longhorn Land & Cattle Co. our pastured pork is from Black Hill Ranch ● we recycle all glass, cardboard, aluminum and plastic water served upon request by reducing water waste & washing chemical use, giacomo's is protecting the environment – thank you for your cooperation & helping us do the right thing!  we are happy to accommodate dietary requests, but keep in mind that everything is prepared to order the "slow food" way, so special orders will take longer
Ordering Paleo doesn't have to be stressful or, an outtake from When Harry Met Sally...
…"But I'd like the pie heated and I don't want the ice cream on top I want it on the side and I'd like strawberry instead of vanilla if you have it if not then no ice cream just whipped cream but only if it's real if it's out of a can then nothing." -Sally's crazy ordering
When reading a menu with Paleo eyes,  you always want to find your  Meat options, your Vegetable options and your Healthy Fat options(HFO).  There might not be the perfect dish and you may have  to choose a combination of small dishes or a modified salad.  Keep your options clean, avoid complicated recipes, sauces and fried foods.
Let's dig in!
We started with a variety of small dishes, like the antipasto di verdure (gf),  where you choose from a counter display of changing vegetable antipasti.  I love being able to hand select exactly what I want.   Then the insalata frutti di mare (gf)  poached shrimp and calamari, pickled fennel and sweet red pepper.  Your HFO comes in the form of  extra virgin olive oil(evoo) that covers all of the vegetables, and thats a good thing!   The food is amazingly delicious!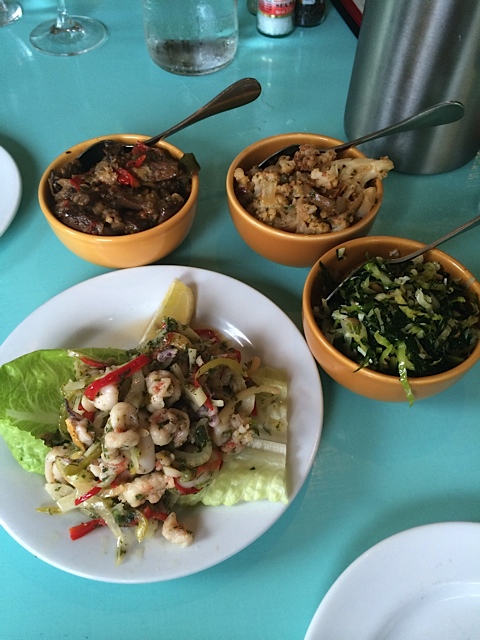 Of course, now that I work with the Clegg family at Texas Longhorn Land and Cattle Co the polpetti puccini, slightly spicy texas longhorn beef & all natural local pork meatballs, fennel confit & tomato cream is a must have!  I asked for No cream in the sauce and they were happy to take it out.  Yum!
 The salsiccia di pollo (gf)  grilled homemade chicken sausage, frisée, arugula is delish, as is the ratatouille marti (gf*) roast ratatouille, free range fried egg.
All of the Secondi Main Course Protein are fine, just leave off any cheese, bread, beans and cream.  I got the 
porchetta e fagioli (gf*) Full or  half order (I suggest 1/2 order for man or woman)
slow roasted Berkshire pork butt aggressively seasoned with fennel, rosemary, garlic, pepper, with OUT cannellini beans stewed with tomato, garlic, extra virgin olive oil, sage.  My Bad, in my excitement I forgot to say No to the beans!
The Vegetable sides are amazing!   BUT!  Say No to the Beans, Potato and Polaenta.  And here are my thoughts on that.  Even if you are liberal (I am not) with your Paleo choices and you talk yourself into thinking that these items aren't "that" bad for you..well, they are.  Adding Beans, Potatoes, Pasta,Polenta, etc., to already  rich restaurant foods is a carb over load, fat storing red zone.  One 1/2c of Cannellini Beans, 17gr Carbohydrate!  One 1/2c of Yukon potatoes, 26gr Carbohydrate…Yikes!!  So stick with the non starchy vegetables in Olive oil or butter and you will feel satisfied on less food.   Trade in the sugar food for the cavoletti con pancetta, brussel sprouts sautéed with pancetta, garlic, extra virgin olive oil,  and you just might have a Sally moment at the table!:)
I hope you found this to be helpful!  Paleo on!
http://www.giacomosciboevino.com
3215 Westheimer Houston
Open: Tue – Sat 11:30a – 10:00p
Sun 5p – 9p  
Closed: Mon